K1 bookcase is a system produced by Kriptonite, the historic Italian brand that produces bookcases and furnishing accessories of excellent design.
You can design and buy your K1 bookcases by yourself.
K1 is composed of uprights, fixed to the wall, and shelves that hook to the uprights. In addition to the shelves, drawers and containers can also be inserted.
In the images below you can see some examples of the K1 library.
The K1 bookcase can be composed of a single span (column) or of several spans.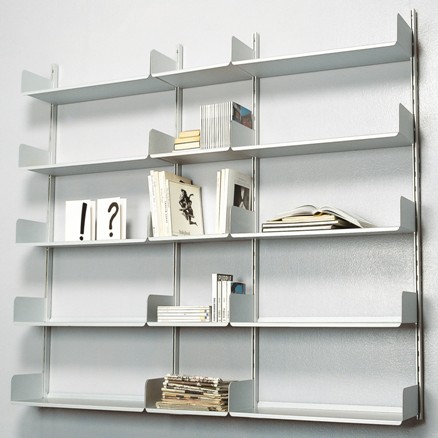 We begin to choose the elements to compose it by clicking on the drop-down sections at the top right.
The Uprights are available in 6 different heights, from 40 cm up to 249 cm (but can also be cut to size).
Click on the desired length and indicate the required quantity;
Remember that if you want to build a K1 bookcase with 1 span you need 2 Uprights; if you want to build a K1 bookcase with two spans you need 3 Uprights; for a 3-span K1, 4 Uprights are required, and so on.
In the section below, choose the Shelves that can have four widths: 40, 60, 75.5 and 90 cm and 3 depths: 18, 29 and 36 cm.
There is the possibility to create a corner bookcase. Only if we have a 90° angle we can insert the set of corner shelves.
The shelves will be hooked to the uprights on which there is a point of attachment every 6 cm.
Choose the shelves of the dimensions you are interested in, click and choose the required quantity;
In addition containers or drawers can be added to the uprights.
To better understand the K1 structure and all the design possibilities, click the K1 keys Technical Sheet and K1 Assembly instructions [at the beginning of the text]
Color: natural anodised aluminium,  matt white, matt black, as well as Oak or Canaletto Walnut. The wood concerns the shelves and the containers and drawers. For wooden elements contact us.
Once you have chosen the uprights, the shelves and possibly drawers and containers or other items, the bookcase is ready and you can click on add to the cart.
The wall mounting of the K1 bookcase Kriptonite is very simple! Just use the drill, the screwdriver and the spirit level. All the hardware materials, screws, plugs, mounting template and a sheet of information to be able to mount it correctly are included.
Delivery time between 5 and 7 weeks approximately (depends on the items ordered).
We can make a personalized quote!  CONTACT US