Bookcase Krossing is a system produced by Kriptonite, the historic Italian brand that produces aluminum bookcases and furnishing accessories, with a unique and unmistakable design.
The Krossing wall system, made simply with aluminum shelves and tubes, is designed to hold a large number of books (but also CDs, DVDs, etc.) with minimal encumbrance.
The Krossing, once filled, tends to "disappear" to leave maximum space for books, CDs, DVDs, perfumes, spices, brushes, jars, coffee, etc …
Have a look at the attachments above (Krossing Tech Specs and Manual to better understand the Krossing structure)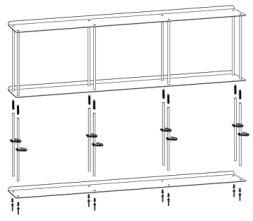 To purchase your library select the necessary elements: the number of shelves and the number of spacer tubes. It is not difficult, read the whole announcement well then start to select the necessary elements, indicating the necessary quantity.
Shelves are 15 cm deep and are available in the following lengths: 34, 67, 100, 133, 166, 200 cm.
Spacer tubes have four different heights: 15, 20, 25, 33 cm.
Available colors: natural aluminum, glossy white, matt white, black. You can choose a color that is not in the list, just indicate the RAL code of the color that interests you in the provided space.
Regarding the assembly it is simply a matter of joining the shelves you have chosen with the tubes. You can do everything by hand, without using other tools.
As you can see it is very simple and you can also compose particular and customized shapes.
For any doubt, do not hesitate to contact us, we will give you all the clarifications; and if you have special needs we will recommend the best configuration.
Bookcase Krossing Kriptonite is normally delivered in about 12 working days
WE SHIP IN ITALY AND THROUGHOUT THE EUROPEAN COMMUNITY.
For Switzerland and Norway special transport and Customs. Tap here for info