Krossing Midi is an evolution of the famous Krossing system produced by Kriptonite. Krossing Midi has a peculiarity: a structure can be configured to be fixed to the wall, or a base can be added so as to rest the structure on the floor, securing it to the wall.
The Krossing Midi wall system, made simply with shelves and aluminum tubes, is designed to contain a large number of books, but not only, with minimal space.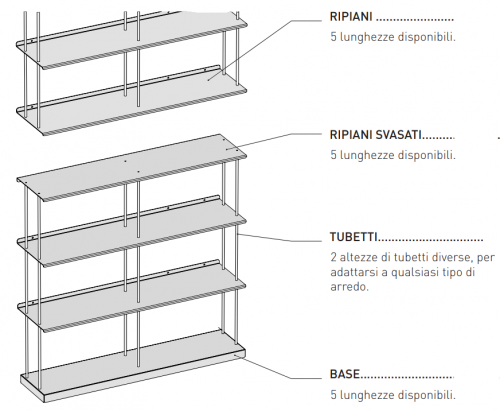 To purchase your Krossing Midi bookcase, select the necessary elements: the quantity of shelves and the quantity of spacer tubes.
The shelves are 20 cm deep and are available in lengths of 40, 80, 120, 160, 200 cm. Custom lengths can be obtained for a small surcharge. To get information about particular measures, write a message.
The spacer tubes have two heights: 25 and 33 cm.
The available colors are: natural aluminium, matt white, matt black. Other special finishes that can be obtained with a surcharge are in the price list.
Once the quantity of shelves, tubes and color has been selected, we can click on "Add to Cart" and continue with the payment to complete the order.
As for the assembly, it is simply a matter of joining the shelves we have chosen with the tubes. You can do everything by hand, without using any other tools. In any case, consult the Assembly Instructions found inside the package.
As you can see it is very simple and you can also compose particular and personalized bookcases.
Currently the preparation of each order takes about 4-5 weeks.
For any doubt, do not hesitate to contact us, we will give you all the clarifications; and if you have special needs we will recommend the best configuration.
WE SHIP IN ITALY AND ALL OVER EUROPE.
Orders with destination SWITZERLAND and UK, Italian VAT is deducted