Krossing Maxi is a system produced by Kriptonite, the historic Italian brand that produces aluminum bookcases and furnishing accessories with a unique and unmistakable design.
Krossing Maxi is a modular floor bookcase, simple, light, but very spacious and resistant, suitable for books and large books. Once assembled, this structure rests on the ground and is fixed to the wall with a stop to give maximum stability.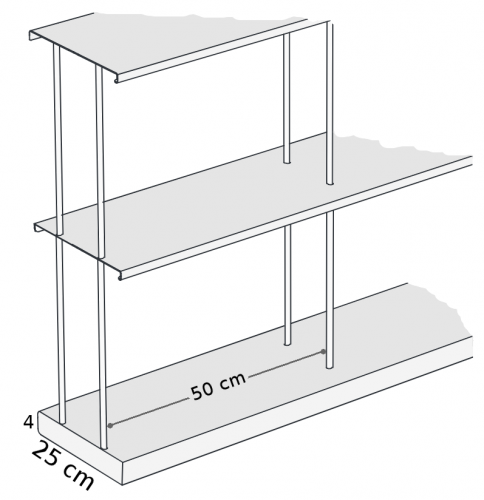 The bookcase is composed of a base module that rests on the ground.
The base module has 4 cm height, 25 cm depth, and four lengths: 50, 100, 150, 200 cm.
Once the base has been chosen, we must choose the tubes that will distance the first shelf. The tubes have 3 heights: 26 cm, 33 cm and 39.5 cm. We will choose pairs of tubes.
Now we insert the shelves, as many as we want. It is also possible to insert a wooden box between the shelves. possible colors: Oak, walnut Canaletto, white or black.
We can also compose articulated structures with different shapes from the usual pattern.
The colors available in the price list are: aluminum, matt white, matt black. It is possible to request a particular color, just indicate the RAL code of the desired color.
Assembly is very simple, check the assembly instructions on how to assemble it.
If you have difficulty ordering the Krossing Maxi, you can request a custom quote by sending the description or a drawing of the desired Krossing Maxi.
Krossing Maxi is normally delivered in 2/3 weeks.